School Closure Update for the Week of March 30, 2020
Jennifer Geesy
Sunday, March 29, 2020
As previously shared by Randolph Central School Corporation Superintendent Mr. Rolland Abraham, Governor Eric Holcomb has closed all Indiana schools through at least May 1, 2020 in a response to the coronavirus outbreak.
This week, we will begin a period of extended eLearning for Baker Elementary students. Students will participate in eLearning on Monday, Tuesday, and Thursday of each week. Randolph Central School Corporation will use waiver days as provided by the Indiana Department of Education to cover Wednesday and Friday of each week.
There are some key factors to consider as we enter this new format of learning:
eLearning will begin Monday, March 30, 2020 for all Randolph Central Students.
eLearning lessons will be posted each eLearning day by 9 a.m.
The school office will be staffed from 9a-2p on eLearning Days.
Teachers will be keeping remote office hours from 9a-2p on eLearning Days.
The building is no longer open to students. Should you need to pick up paper eLearning packets due to lack of internet access, please send one adult representative to do so and maintain social distancing at all times.

There will be boxes marked by grade level from which you will pick up the eLearning packet.
Please sign out the packet you are picking up and use the available sanitizer both before and after doing so.

If you have questions, please call the office ahead of picking up materials.

Paper packets are due the following Monday by 2 p.m.

Dates are also listed on the front cover of each packet.
Please see the graphic below for more information on office hours and due dates.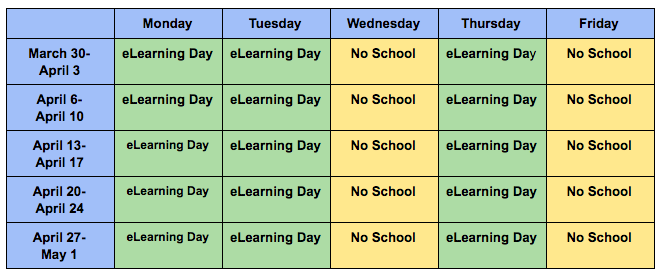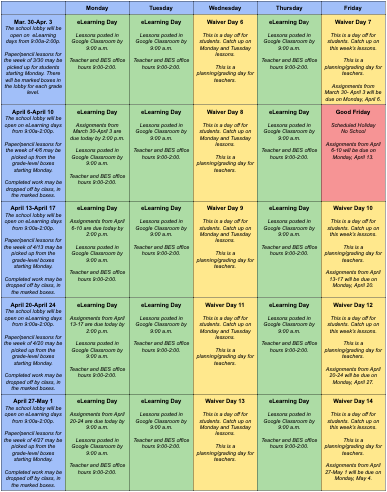 What do I do if my student's Chromebook is malfunctioning?
If your student is having a Chromebook issue (malfunctioning keyboard, screen issue, etc.), please contact the Technology Office, located at Winchester Community High School at 765-584-1401 extension 1530, to schedule a time to bring in the Chromebook. You can call on any eLearning Day between 9a-2p. Once you have scheduled a time, you will enter WCHS through door #2.
We want to stay connected during this time of social distancing.

In an effort to stay connected during this time, we are going to kick off the week with some optional dress up days. Please, feel free to participate and use the hashtag #LionsontheLoose. We also continue to offer free lunches for students at five pickup locations throughout the community. Please see the information below for details.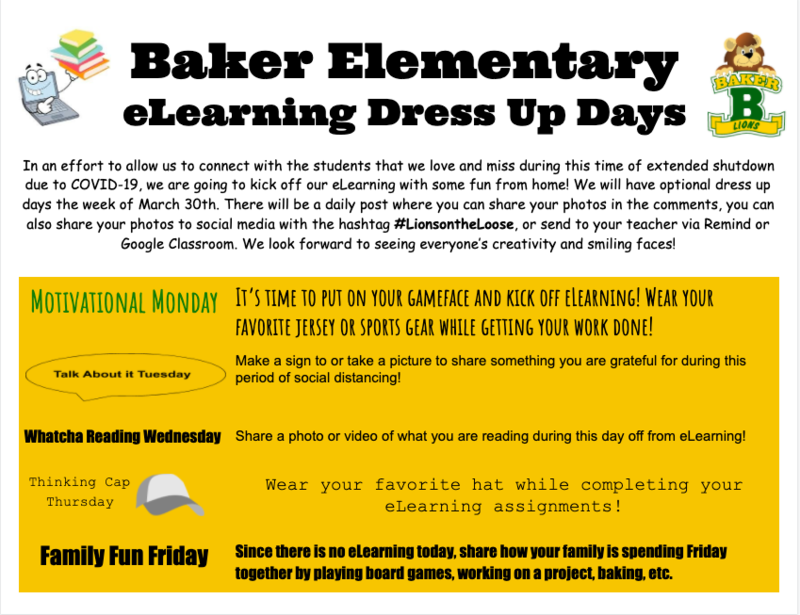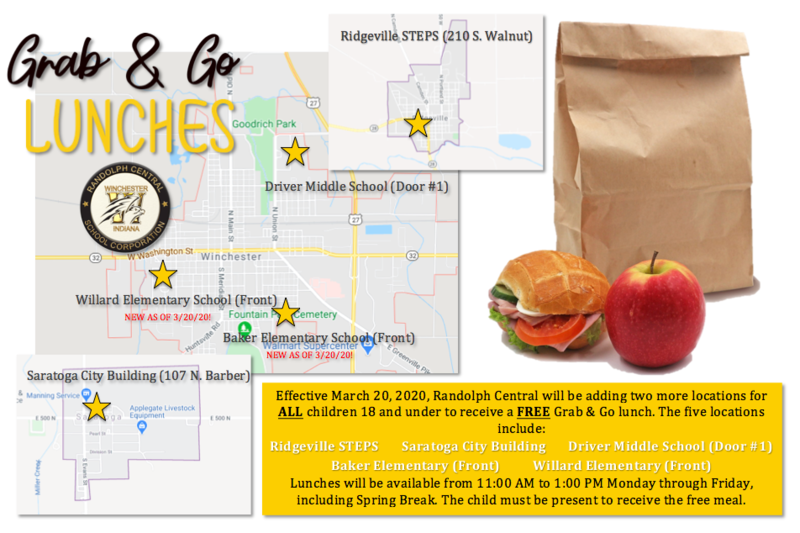 This is a first for our school, and we expect there to be questions. As always, please reach out to your child's teacher as they are the expert on what they are assigning. However, you may also contact the school office and we will assist you in finding the answer.
We appreciate all of your patience and grace in this time of extended school closure. As a school corporation, we will continue to monitor the situation and work closely with public health officials to make decisions. We are here for you, so please do not hesitate to contact myself or your child's teacher if there is anything we can help with during this time.
Mrs. Geesy
JGeesy@randolphcentral.us