RANDOLPH CENTRAL OPEN HOUSES TONIGHT (8/8) WCHS Freshman Frenzy 7:00 PM Door #1 Parents pick-up Freshmen @ 7:45 Lee L. Driver Middle School 6:00 - 7:00 PM Sixth Grade Meeting from 6:00-6:30 Deerfield Elementary School 5:00 - 6:00 PM Willard Elementary School 6:00 - 7:00 PM O.R. Baker Elementary School 5:00 - 6:00 PM

Randolph Central Parents, I hope your family had a restful summer break. Much has happened over the summer in preparation for this school year including several facility projects. We have a full staff and are excited about seeing your child(ren) tomorrow (8/9). Every Wednesday, including the first day of school, is an early release day. Usually, this is for professional development time, but on the first day of school this time is used to help students learn the process of getting to the correct bus and it allows for more time as some of the bus routes have been reorganized. Please click the link below to see the Wednesday early release schedule as well as the other schedules..
https://www.rc.k12.in.us/o/randolph-central-school-corporation/page/dismissal-times
Thank you! Rolland Abraham

Welcome Back to School From Chartwells & Randolph Central. Click the link below for more information about school meals.
https://5il.co/2139z

The next meeting of the Randolph Central School Board will be at the WCHS Library on Monday, August 7, 2023 at 6:00 PM.

The YMCA Kids Club program will be available this year at Baker Elementary School & Willard Elementary School. After school care will be offered until 5:30 PM. Click the link below to register your child(ren)
https://forms.gle/AD2EcYdGtLtqUTgE6

Good evening! We are happy to announce that our enrollment portal for the 23-24 school year is now open! The parent or guardian listed as the first contact should have received an email today with the snapcode to access your student's record. If you did not have a valid email on file, you will receive a letter this week. Please make sure to call one of the offices for your snapcode if you did not receive it instead of using the new student link. Thank you and have a great summer!


23-24 Kindergarten registration is underway at Baker and Deerfield! Help spread the word! You can stop in and pick up a packet any time between 8:30 and 2:30. This is for students that are turning five on or before August 1, 2023. Please follow the link for more information:
https://www.rc.k12.in.us/page/kg-23-24
or more details for Baker at:
https://www.smore.com/19fna
For PreK students, Randolph Central is proudly offering ALL DAY preschool this fall. Spots are limited, and early registration is encouraged. More information can be found here:
https://www.rc.k12.in.us/page/preschool-at-baker-and-deerfield
. *Note - Do NOT click on the 'Register' link on our website to register for 23-24. It is still set for 22-23 for current incoming students. The links will be switched over at the end of this school year and you will receive registration information at that time. Thank you!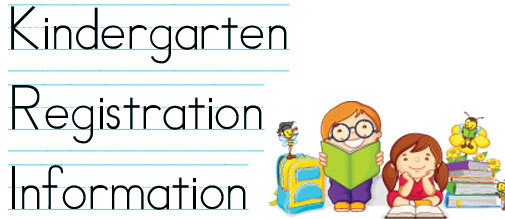 Randolph Central will be on a 2-hour delay today, Thursday, January 12, 2023 due to fog.


Randolph Central Families, This is a reminder that Monday (10/10) and Tuesday (10/11) are asynchronous eLearning days. Teachers will have lessons posted by 9 AM. Students should work on assignments and can reach out to their teachers for help between the hours of 9 AM and 2 PM. Wed-Friday is Fall Break. Thank you!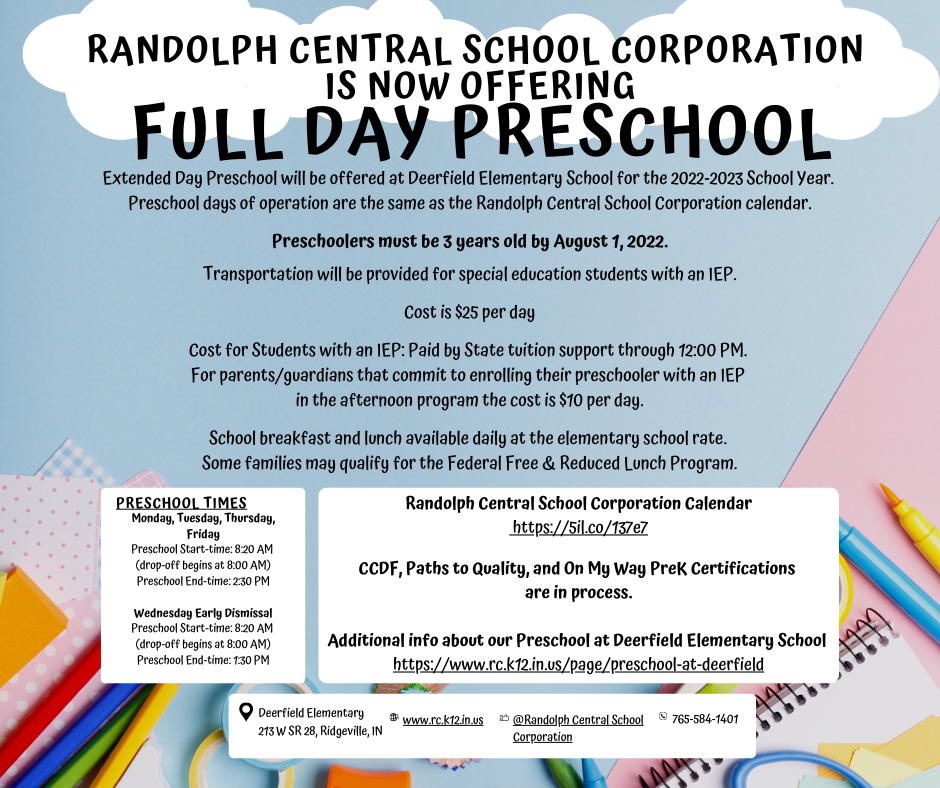 Click below for access to Randolph Central Quick Links to important school information.
https://5il.co/1f9vd

Driver Middle School 7th and 8th Football starts Aug. 8th. Equipment hand-out will be in the DMS gym on Tuesday Aug. 2nd and Wednesday Aug 3rd from 6-7:30 PM. Practice schedules will be passed out at that time.

This is a reminder that Randolph Central is having onsite enrollment at ALL schools today (7/22) from 9 AM to 2 PM and Monday (7/25) from 2 PM to 6 PM for any parent who needs assistance. Parents can also enroll their new or returning child online anytime at:
https://www.rc.k12.in.us/page/online-registration

Building a bright future for Randolph Central students.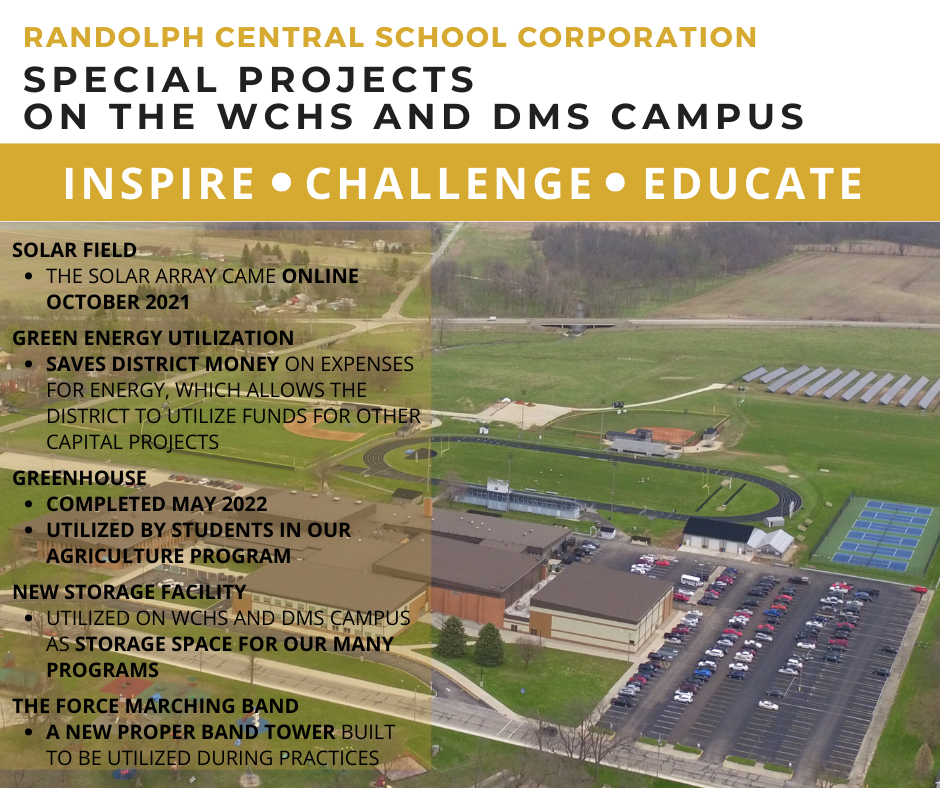 The Randolph Central Board of School Trustees voted to hire Anna Spencer as the new Lee L. Driver Middle School Principal. Ms. Spencer served as the WCHS Assistant Principal last year, which gave our community the opportunity to get to know her and the quality of her work. She has 20 years of experience as a middle school teacher in which she served in many leadership roles. Congratulations Anna! We are happy to have you in this new role and look forward to great things for Lee L. Driver Middle School under your leadership.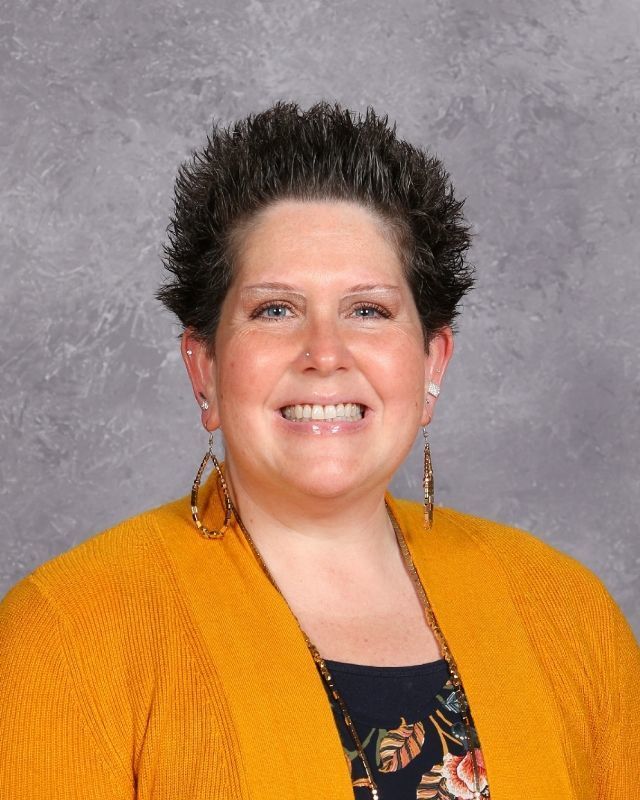 RANDOLPH CENTRAL SUMMER LUNCH PROGRAM From Tues., May 31 to Fri., Aug. 5th 10:30 AM - 12:30 PM Driver Middle School Door #1 For more information click the link below.
https://5il.co/1awxk

Reach All Randolph County & The Community Foundation of Randolph County is in search of a Tobacco Prevention Cessation Coordinator for Randolph County. If you love to work in the community and want to help educate kids about the dangers of vaping this may be the job for you. Click below for more information.
https://5il.co/182v4

The Winter Color Guard did an amazing performance today! So proud of them. Their show was stunning! Very impressed. Great work! Go Falcons!