Randolph Central is hiring great cafeteria workers.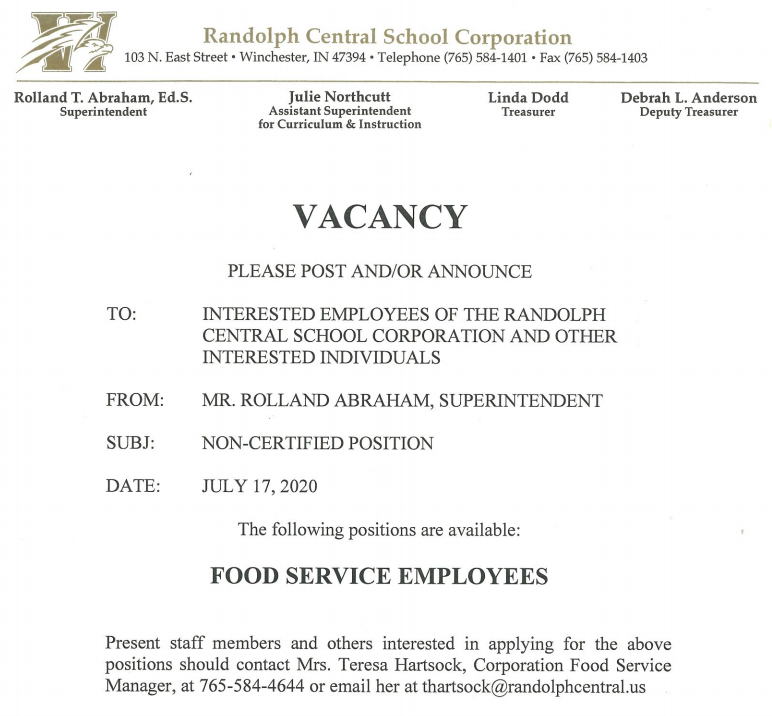 Randolph Central is looking for a couple part-time custodians willing to work evening hours and help the current custodial staff to clean and disinfect.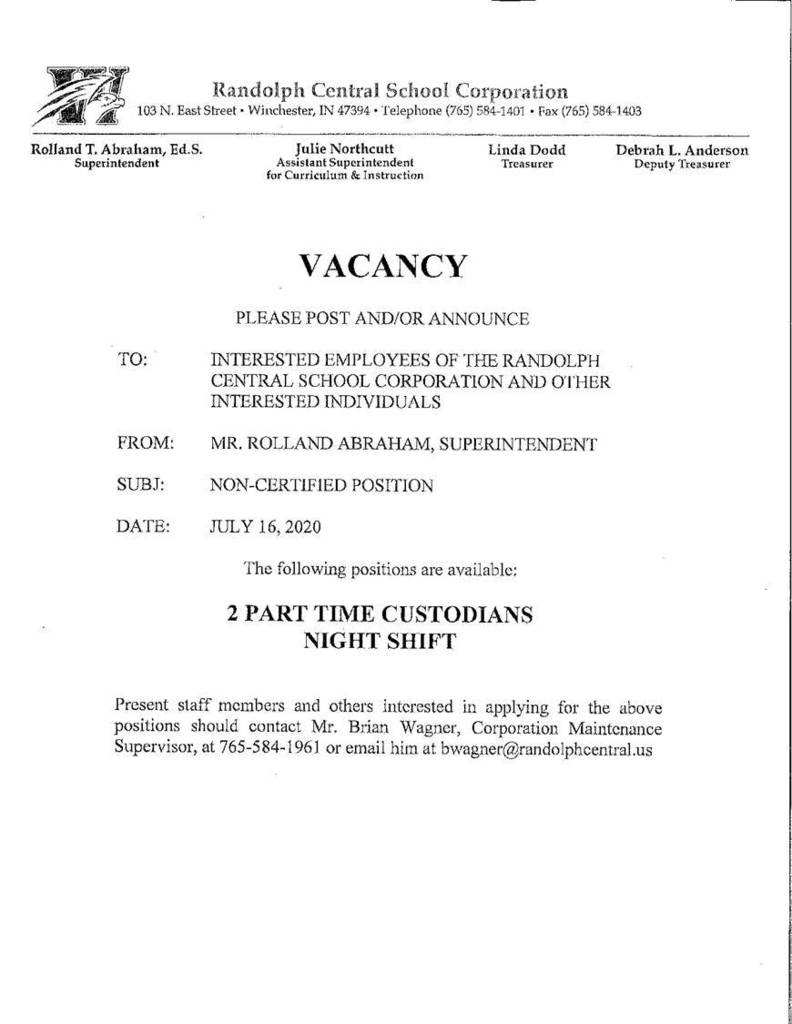 Randolph Central Schools reopens with Plan A, the "Low to No Spread" category. Click the link below for more details.
https://5il.co/ia0v

Randolph Central Schools will reopen as planned on August 12th with all students returning five days per week. For details of the School Board approved reopening plan please click on the link below.
https://5il.co/ia0v

Winchester Boys Tennis is looking for new team members. Practices are Tuesdays and Thursdays this summer from 10 AM to 12 PM, at the high school courts. For more information, contact Coach Derek Baker at
debaker@randolphcentral.us
.

CLICK ON THE LINK BELOW FOR INFORMATION ON HOW AND WHEN TO TURN IN YOUR CHROMEBOOK.
https://5il.co/g1r3

Are you looking for free or affordable preschool? GRIC Preschool Enrollment information is available here:
https://5il.co/fuz9
. Once you are ready to enroll, please click here to complete your form:
https://bit.ly/3fnqU0z

Congratulations to Katie Lash! We are proud of you and are thankful for all you do for our students, staff, and families at Driver Middle School.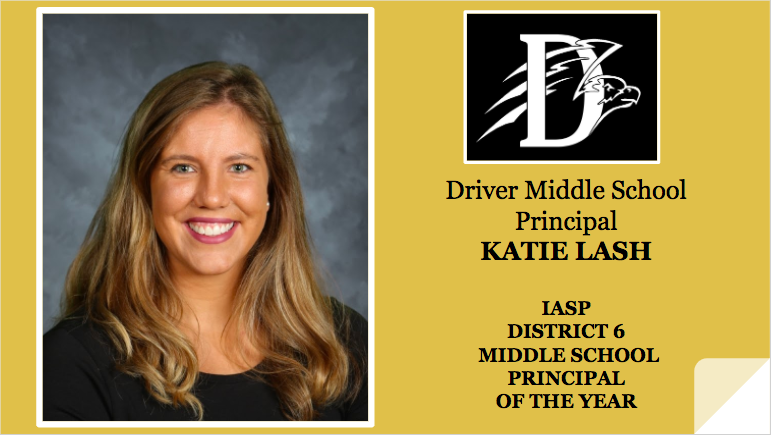 Did you know that the next census is taking place in 2020? Responding to the #2020Census is our civic duty and affects the allocation of funding for our community's public resources, how we plan for the future, and our voice in government. To learn more, visit 2020census.gov.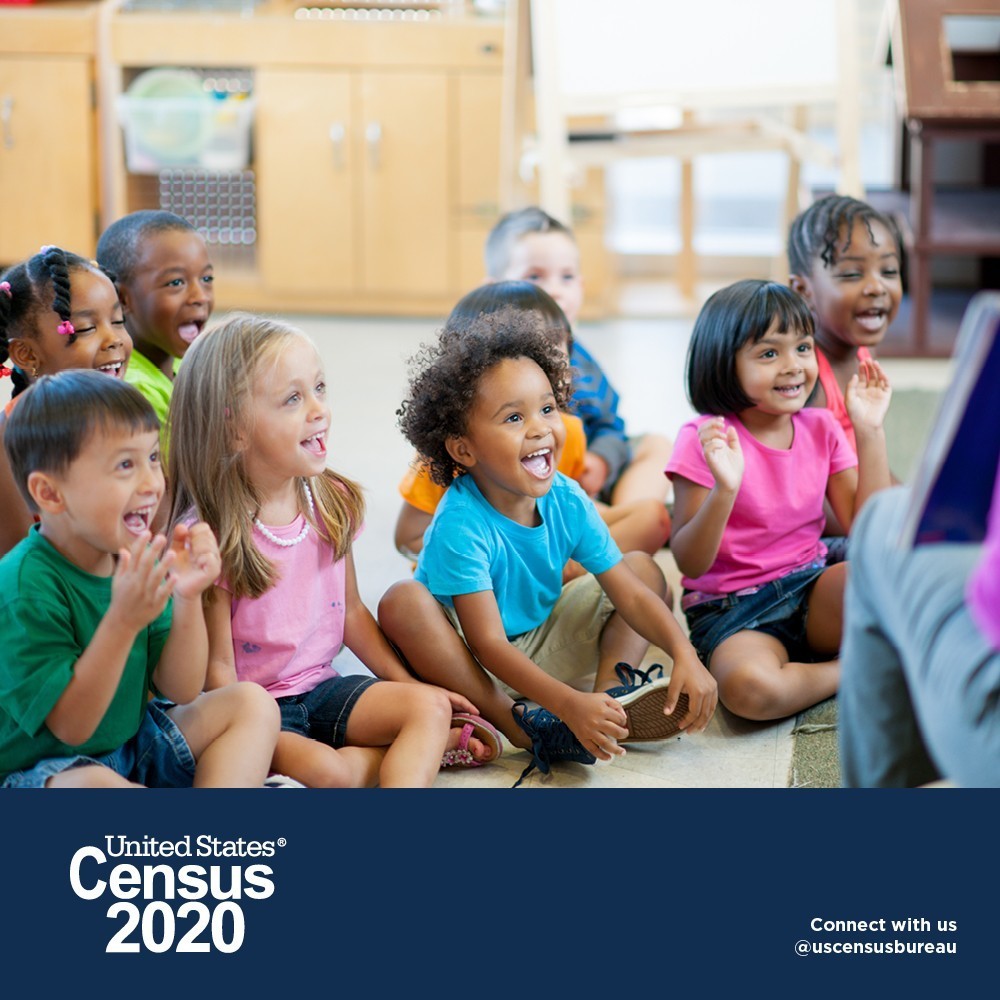 The Governor issued an Executive Order today closing all K-12 schools and requiring each school to continue an extended learning plan that includes 160 student days. Randolph Central will continue eLearning Days on Mon., Tues., & Thurs. of each week. More info coming soon.

RCSC will provide grab & go lunches to kids 18 and under beginning Tuesday, 3/17/20 from 11 a.m. - 1 p.m. at three locations: Ridgeville STEPS (210 S. Walnut), Saratoga City Building (107 N. Barber), and Driver M.S. (Door 1, 700 Union St., Winchester). Students must be present.

Randolph Central School Corporation eLearning Days will begin on Monday, March 30, 2020. More details will be released next week on how eLearning days will be implemented. School offices will be open next week for parents/guardians who need to pick up their child's medication.

Randolph Central School Corporation will be closed beginning on Monday, March 16, 2020 and students will return no sooner than April 13, 2020. All Co-Curricular and Extra-Curricular Activities, including practices, are cancelled until Monday, April 13, 2020.

WCHS Musical Information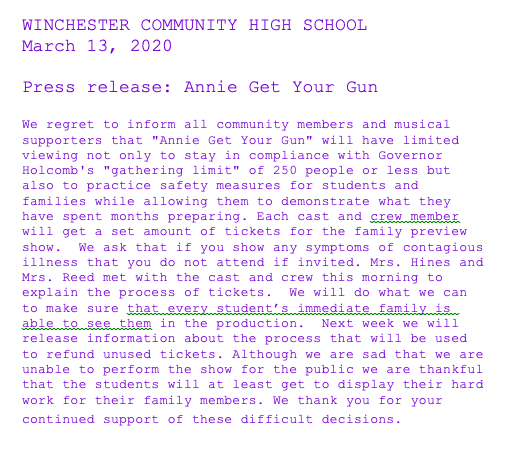 There will be a parent meeting for any 6th, 7th or 8th grader interested in playing middle school golf. The meeting will be held in the Commons at Driver Middle School on Thursday, March 5, at 5:30p.m. Please have a parent/guardian present.

Randolph Central School Corporation will be closed and students will be on an eLearning day today, Thursday, February 27, 2020.

Randolph Central will be on a 2-hour Delay tomorrow, Thursday, February 27, 2020.

RCSC will use online enrollment for the upcoming school year. Parents of currently enrolled students need to have a PowerSchool account set up prior to the end of this school year. If you have not set up grade portal, please contact your school for the instructions and codes.

Falcon youth baseball is having their All-Star tryouts this Saturday Feb. 22nd. The 8U division will be from 11:00am-12:30pm. The 10U and 12U division will be from 12:30pm-2pm. Both will be in the DMS GYM during that time. Please bring your glove, bat, no cleats.